Marnie Haddad is a leading fashion portrait photographer with a degree from UCLA, Los Angeles, in Graphic Design and Visual Communications, and a Diploma of Illustrative Photography from Photography Studies College, Melbourne.
Marnie's fine art projects are elaborate and cinematic. She takes reference from a renaissance palette yet her images remain truly contemporary.
Marnie's imagery appears warm and film-like, conquering the marriage of subject and set. Her success lies in her ability to explore the emotional power of the subject within a staged environment.
The artist's modern interpretation of pop culture, a dream-like state. A renaissance hero frozen in time reflecting fears and romantic notions of freedom, sexuality interpreted in a cinematic vignette. Haddad captures a dream-like scene to spy into and interpret as you're own.
She strives to create a kind of timeless travel to let you're imagination transport you, viewing the world from another body, almost another life. Re-imagining through isolation, viewing the world from a different space.
Objects take on a deeper meaning. Haddad's elaborate portrait style kept alive only in the viewers mind, her mastery of combining camera technique with grasp a constant light source, enhanced by digital technology becomes warm and film-like.
Propped, directed and unfolding as the subject enters the created scene and invites us to dance in its possibilities.
RMIT Mentor
In 2013, RMIT established 'The Marnie Haddad Mentor Award' where a graduate is selected to encourage a dialogue of technique and concepts and to work on sets with clients bridging the gap between student and becoming a professional photographer.
Exhibitions
2008 exhibited in a collaborative show at Sitesea in Tamarama, NSW
2010 Flamingo Sands for Breast Cancer, Rushcutters Bay, NSW
2012 Solo show 'The Manor' at Nellie Castan Gallery, Melbourne Victoria
2014 Solo show 'The Fourth Floor' at Scott Livesey Galleries, Melbourne, Victoria
2015 Solo show 'Max de Winter' at Scott Livesey Galleries, Melbourne Victoria
2015 Arts Centre Queensland  for The Josephine Ulrich and Win Schubert Photography Award
2017 solo show curated by Sarah Fletcher exhibition at 'Franque' Melbourne, Victoria
2019 solo show curated by Sarah Fletcher 'Graham Geddes' Melbourne, Victoria
2019 'The Estate' curated collection at Stamford Park
2020 Honorable mention ND Awards 'The Parlour Untitled #1'
2021 Honorable mention ND awards 'The Second Door Untitled #1', 'The Estate Untitled #3'
2022 'Lust for life' group show Fletcher Art 'The Attic' collection Prahran Victoria
2022 'The Other Art Fair' Saatchi Art Bangararoo the Rocks
2023 'The Dressing Room' solo show Fletcher Arts, Toorak, Melbourne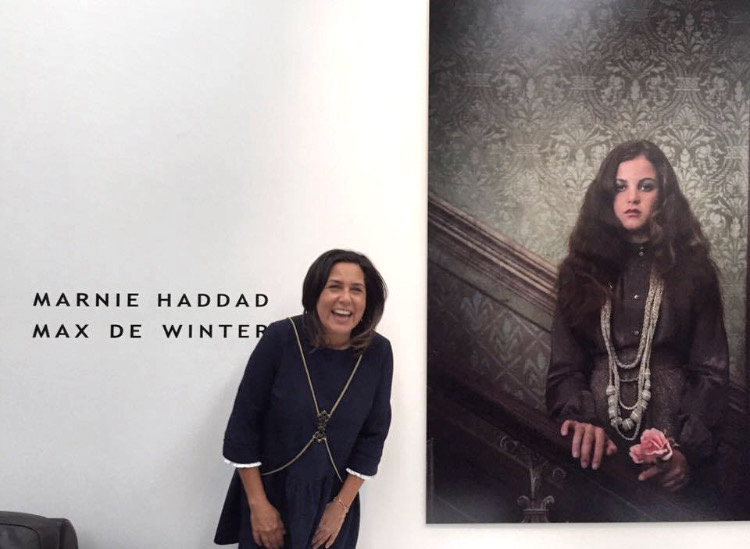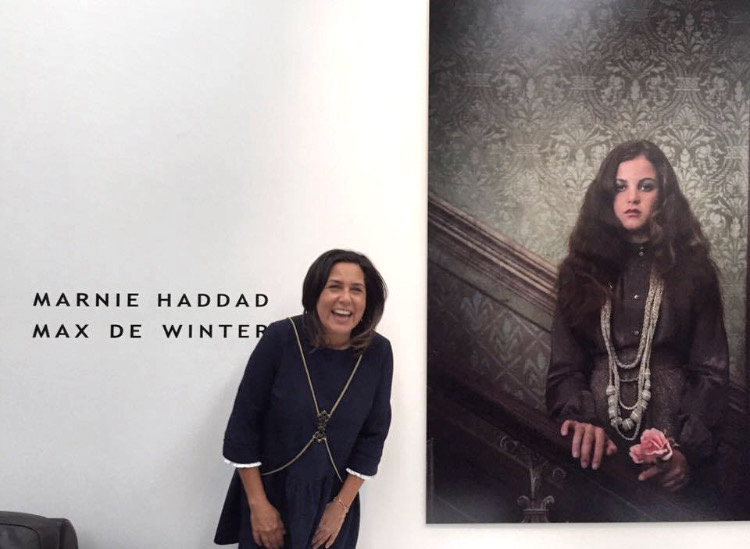 Sydney Morning Herald August 4, 2015
Marnie Haddad's cinematic photography channels Hitchcock thrillers. By Dylan Rainforth.
'Photographer Marnie Haddad says she was after the psychological mood of a Hitchcock thriller for her aristocratically titled exhibition, Max de Winter.
Forget the shower scene from Psycho, these are the icy manipulations of the Daphne du Maurier adaptation, Rebecca. Haddad says she loves the "romantic undercurrents and cinematic staging" of the classic film era. "I became obsessed with the technical aspect of colour and light, and from there I could explore the effects I wanted to achieve," she says.
Her carefully composed images make use of dramatic lighting but are shot with a handheld camera to emphasise a slightly grainy, filmic quality, something the artist underlines by eschewing any retouching.'